Look Who's Involved!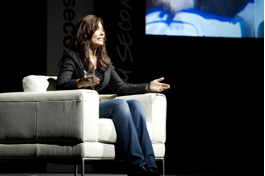 Laura's rough childhood led to years of teenage rebellion, drinking, drug use, and an abortion at age 16.   Today however, she holds a world land speed motorcycling record and along with her husband, Brian, runs a successful motorcycle shop.  But the road there has not been an easy one.
Take a look at Laura's story on the main IAS site!
This is just one of the many stories you can use to share the hope of Christ with friends. It's as simple as watching a video and then cutting and pasting the link with a word of encouragement in an email to a friend. That's what we mean by Share the Stories!
Check out the special I am Second Harley Davidson Laura and her husband are raffling off for the benefit of i am Second. Get Details on their website here
Without YOU, I am Second is just a great media campaign with some cool videos. It reaches the 80% of our city that never darken the doors of our churches…but that's where it stops.
The billboards create curiosity but they don't build relationships, create community or connect people to your church
The videos are relevant, compelling and present a clear picture of the difference a relationship with Christ can make in a persons life, but they don't buld relationships, create community or connect people to your church.
ONLY YOU CAN DO THAT! You and I connect the dots from billboards to the stories to spiritual conversations to small groups.